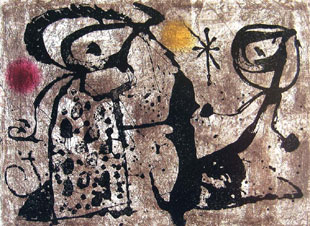 This print is sold

Original etching, from the series "Gaudi", (here engraving XIX), 1979. Very nice proof printed on Arches paper, hand signed by Miro and numbered from an edition at 50 copies.
Printer : Joan Barbara, Barcelone
Publisher : Galerie Maeght, Barcelone
Sizes of the print : 92 X 68 cm
Références catalogue Miro graveur n° 1078.
Very good condition.
Rare, one of the most important print by Miro.
Other prints available by MIRO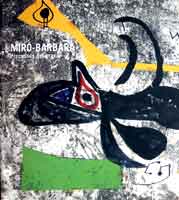 Miro-Barbara, processos del gravat
This very beautiful book tells collaboration between Joan Miro and the printer Joan Barbara in Barcelona. It is as from the Seventies that Miro carries out engravings at Barbara workshop ; he controlled then perfectly this technique of engraving and the meeting between the two men will give etchings among the most important in the work of the artist (Gaudi series, Enrajolats series, series of rupestral, series Els gossos etc). About fifty print is here reproduced and described, also some gouaches and collages, models for future etchings. The book is also enriched by photographs of the two men, on one of it one can see Miro working precisely on the copperplate which will give engraving GAUDI XIX. Fondation Pilar and Joan Miro publisher, Mallorca. Back
MIRO briography