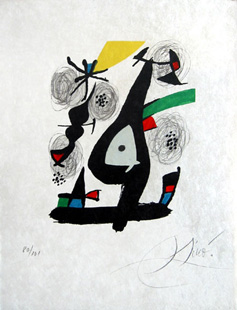 This print is sold

Illustrated book with 14 original lithographs printed in colours by Joan Miro. Text of Patrick Waldberg. Total edition of the book at 145 copies, one of the 81 including the first lithograph in colours hand signed by Miro on japon nacre paper. Book complete with the 14 lithographs unsigned + the first signed.
Printer : Poligrafa, Barcelona
Publisher : Au Pont des Arts, Paris
Size of the book : 34 X 26 cm
Reference catalogue Cramer, the illustrated book from Miro n°248
Very good condition.
Other prints available by MIRO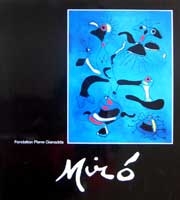 Joan Miro
Jean Louis Prat made this very beautiful catalogue of a Miro exhibition to the Foundation Pierre Giannada in Martigny in Switzerland in 1997. The most important museums and collectors contributed to this exceptional exhibition. More than 120 works are reproduced here, paintings, drawings, gouaches and sculptures - most are bronzes of years 60-70 but also superb ceramics carried out at Artigas workshop. One starts with the figurative paintings of 1917 to the very large watercolours and Indian ink on paper of the Seventies, very close in their composition and their design of the great engravings in carborundum of the same time. The book proposes a very complete biography as well as a bibliography with the reproduction of some important illustrated books of prints by Miro : "Parler seul" from Tristan Tzara, "A toute épreuve" of Paul Eluard, "Ubu Roi" from Alfred Jarry, "Le marteau sans maître" of Rene Char etc. Texts of Jean Louis Prat, "the labyrinth of the dreams of Joan Miro" and Joan Punyet Miro, son of the daughter of the artist. Introduction of Dolores Miro, the daughter of the painter. Back
MIRO briography