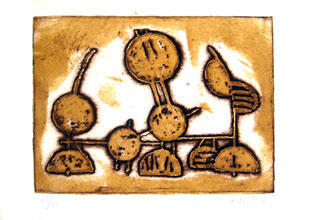 This print is sold

Original etching and aquatint printed in colours, 1947, proof on Arches paper signed and numbered from an edition at 60. Printed as greeting card for the year 1958. Probably printed by Lacourière in Paris.
Size of paper : 25 X 16.5 cm
Size of copperplate : 18 X 13 cm
This print is not referenced in the catalogue Schmücking.
Other prints available by MUSIC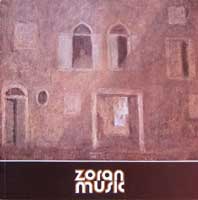 Zoran Music
Catalogue of an exhibition Zoran Music at the gallery Claude Bernard in Paris in 1984, exhibition devoted to works, paintings and techniques mixed on paper, of the beginning of the Eighties. Music then paints scenes of workshop, frontages and Giudecca in Venice. Some drawings on this last topic are also reproduced, as well as photographs of the artist. Text of Andre Chastel in introduction "Small letter to Zoran Music" where the author concluded: "In this half dreamed Adriatic, there is a peninsula, place of your constant and fine metaphor, located, it also, in the borders of Italy : it is your art, Zoran Music". Back
MUSIC briography