CLAVE >
Eloge, Lithographs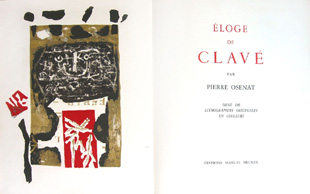 Illustrated book from Clavé, text by Pierre Osenat. 1958. Comprising 7 original lithographs in colours of Clavé. Deluxe copies not numbered but nominative, comprising an additional suite of 6 lithographs (all the lithographs, except the frontispice, as for the deluxe edition numbered). Total edition of the book at 200 copies.
Printer : Desjobert
Publisher : Manuel Bruker
Size og the book : 33 X 26 cm
Good condition.
Other prints available by CLAVE