HAYTER >
Flight, Original Etching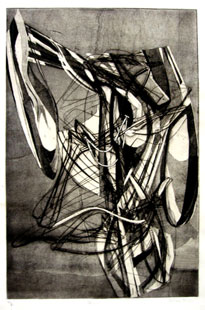 This print is sold

Original engraving, soft ground etching and scorper, 1944, very nice proof on paper kochi signed, titled and numbered from an edition at 30 copies.
Publisher : George Wittenborn
Size of paper : 50.5 X 32 cm
Size of the print: 37.5 X 25 cm
Good condition.
références catalogue Black and Moorhead "the prints of Stanley William Hayter n° 159
This print had been reproduced on cover of catalogue for the exhibition "Hayter and Studio 17" at the Museum of Modern Art of New York in 1944. Carla Esposito, in the foreword of this very beautiful book, "Hayter et l' atelier 17", tells about this exhibition: "In 1944, the artists from the atelier 17 exhibited at the Modern Art Museum of New York. For this event, Hayter gathered the most provocative pieces. Success and interest were exceptional. The consecration of the atelier 17 in the American culture seemed to mark a change in the public's behaviour towards the prints. From this moment and in a couple of years, the art market, which used to deal with painting only became interested in engraving too. Prints left it's intimate dimension of the 30s, faced a more and more general and universal thematic towards a wider public. At that time of the Hayter exhibition in 1944, we can notice that engraving gradually changed in it's dimensions too ; one could start taking it away from the illustrate book in order to hang it to the wall."
Other prints available by HAYTER