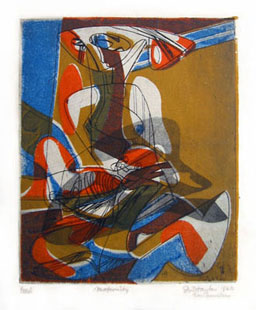 This print is sold

Etching and aquatint printed in colours, 1940, hand signed by Hayter, numbered and titled from an edition of 50 copies. Proof anotated "essai".
Size of paper : 52 X 34 cm
Size of copperplate : 22.5 X 19 cm
Réf. Cat. Moorhead n° 132.
Many creases in the paper, but image in good condition.
Other prints available by HAYTER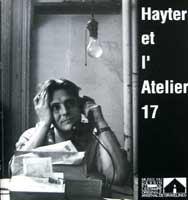 Hayter et l'Atelier 17
Catalogue of an exhibition at the drawing and original print Museum of Gravelines in 1993. It is an essential book to understand the importance of this workshop and the incomparable laboratory that it constituted for the creation of original engravings. Hayter is the Leader, taking up all the technical challenges and involving his friends with him : sculptors, painters and engravers worked in the Atelier 17, in a climate of great intellectual freedom and opening mind for astonishing graphic experiments. The catalogue starts with the works of Hayter, (engravings, etchings, aquatints) reproduced in colors ; the rest of the book being devoted to the friends : One finds there engravings of Dominguez, Ernst, Giacometti, Tanguy, Vieira da Silva, of course Miro for the New Yorkaise period, Masson, Motherwell etc. Very interesting texts of Duncan Scott, important bibliography, and many photographs. Back
HAYTER briography