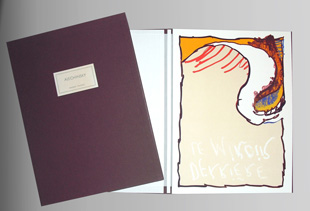 This print is sold

Revue "derrière le miroir" number 247, 1981, with 8 original prints with offset from Alechinsky. Deluxe copies signed by the artist from an edition at 150 copies. Texte from Antonio Saura and Jean Frémon "Notes et remarques sur le motif".
Printer : Arte.
Publisher : Maeght.
References catalogue "Derrière le Miroir, 1946-1982", page 108.
Very good condition.
Other prints available by ALECHINSKY