UBAC >
Alentour De La Montagne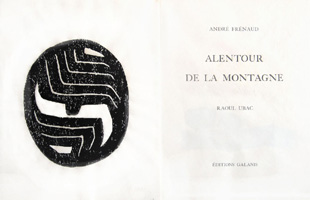 This print is sold

Iluustrated book 1980. 29 poems of André Frénaud et 16 original etchings of Raoul Ubac printed on a Japon Misumi paper. The first etching is hand signed by Ubac. Edition of the book at 90 copies numbered and signed by the poet and the painter.
Size of the book : 36 X 29 cm
Very good condition.
Other prints available by UBAC