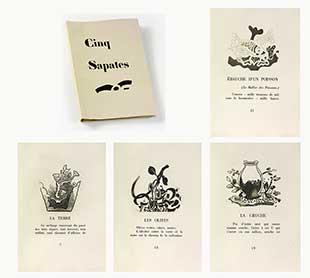 "5 Sapates." Illustrated book with 5 original etchings and aquatints from Braque, text from Francis Ponge, 1950. Edition of the book at 100 copies on a Chiffon d'Auvergne paper, all the copies are signed by Ponge and Braque.
Printer : Visat.
Published by Braque himself 1950.
Reference catalogue Vallier "The prints of Braque n° 62".
Very good condition. One of the nicest book by the artist.
"A sapate is a very important gift hidden in another gift much less modest, one lemon for example and there is inside a big diamond. That is practised in Spain and Italy".
Other prints available by BRAQUE