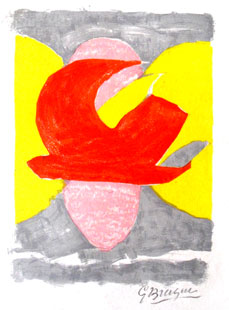 "Descente aux enfers".
Original lithograph printed in colors, 1961, very nice proof on Japon Kosu paper, signed by the artist, from an edition at 40 copies. Coming from a suite of the book of Marcel Jouhandeau "La descente aux enfers" comprising 4 original lithographs by Braque. Edition of the book at 200 copies.
Printer : Mourlot.
Publisher : Nouveau Cercle parisien du livre.
Size of the paper : 32 X 26 cm.
Size of the lithograph : 27 X 20 cm.
References catalogue Vallier n°171, Mourlot n° 77.
Good condition.
Other prints available by BRAQUE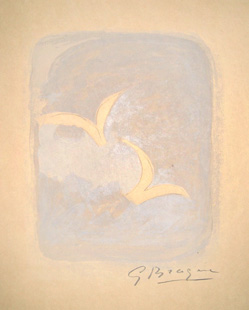 BRAQUE : braque, descente
Lithographie originale sur papier Japon Impérial, 1961, épreuve signée par Braque. Provient d'une suite du livre de Marcel Jouhandeau "la descente aux enfers". Tirage du livre à 170 exemplaires. Tirage des suites signées à 40 exemplaires sur différents papiers.
Imprimeur : Mourlot.
Editeur : Cercle Parisien du Livre.
Dimensions de l'oeuvre : 32 X 25 cm.
Références catalogue Vallier "les estampes de Braque" n°171.
Très bon état.
---