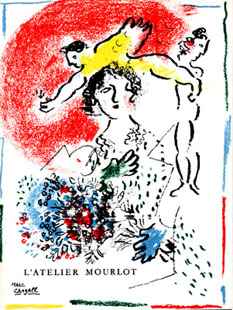 "L'atelier Mourlot".
Catalogue from 1965 published for an exhibition in the Redfern Gallery. Comprising original lithographs from Marc Chagall, Alexander Calder, Henri Matisse, Alberto Giacometti, Joan Miro, Pablo Picasso and others artists from the Mourlot workshop. Edition of the book at 1000 copies.
Printer : Mourlot.
Publisher : Redfern Gallery.
Size of the catalogue : 25.5 X 19 cm.
References for the Chagall, Sorlier n°415
Good condition.
Other prints available by CHAGALL