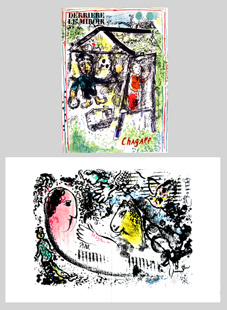 This print is sold

Derrière le miroir number 182, 1969, the deluxe edition printed at 150 copies on Rives paper, texts by André Frénaud and Claude Esteban, comprising 2 original lithographs from Chagall. There is here an additional copies of the 2 lithographs.
Printer : Mourlot.
Publisher : Maeght.
Size of the book : 38 X 28 cm.
References catalogue Sorlier "the lithographs of Chagall" n° 603. Very good condition.
"Dans un monde où les dieux se taisent, Chagall continue à faire de son art un acte de piété. Cette piété, toutefois, ne se fonde en rien sur quelque nostalgie ; elle rend hommage à l'homme vivant, à une lumière venue d'ailleurs qui le traverse et l'éclaire mais qu'on ne peut séparer de lui. C'est, je crois, avec une même confiance que nous avons à accueillir ses tableaux. Tenter de les interpréter, y reporter la grille d'une logique, serait, en définitive, méconnaître à la fois leur spécificité d'oeuvre d'art et leur dimension transcendante. Il faut lire Chagall au pied de la lettre, comme les livres substanciels de notre enfance -non pour en percer le mystère, mais, page à page, en participer".
Part of the text of Claude Esteban.
Other prints available by CHAGALL