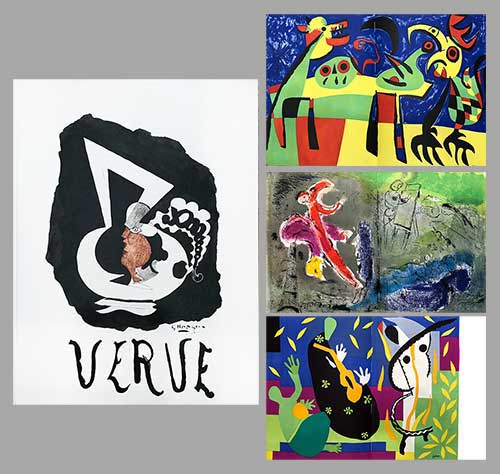 Number 27 / 28 of the famous revue. Texts by Bachelard, Sartre, Reverdy etc. and 29 lithographs in colors and in black and white printed by Mourlot. 8 original lithographs by Chagall (in which Vision sur Paris, Place de la Concorde), 2 original lithographs by Miro (in which Dog barking at the moon), 2 lithographs after Matisse (in which La tristesse du roi), 4 lithographs after Braque, 2 lithographs after Fernand Léger (in which La partie de campagne), and others lithographs after Alberto Giacometti, Henri Laurens, André Masson etc. Edition of the book at 6000 copies in 1953.
Publisher : Tériade.
Size of the book : 36 X 27 cm.
References Cramer 23 (Chagall), Cramer 25 (Miro), Saphire E14 (Léger).
Very good condition, additional photos on request.
Other prints available by CHAGALL