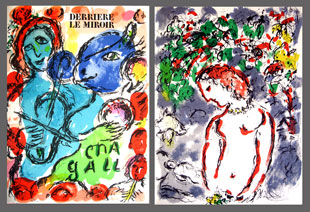 This print is sold

Derrière le miroir number 198, 1972, deluxe edition printed on Rives paper from an edition at 150 copies. Text by Louis Aragon, comprising 3 original lithographs in colors from Chagall.
Printer : Mourlot.
Publisher : Maeght.
Size of the book : 38 X 28 cm.
Reference catalogue Chagall lithograph n°649 - 651.
Very good condition.
"Comme se pose une pierre au seuil d'une demeure à construire alors que les murs n'en sont encore que sur les plans, et les toits pure hypothèse, d'un titre à l'entrée de ces pages, j'ai dit Chagall l'admirable, comme il fut inventé de nommer un certain Ruysbroek jadis au brabant. Admirable comme ici je l'écris, je l'emploie et le plie, est un adjectif-futur, si, au profit de l'épithète, on peut enlever au verbe le monopole d'imaginer l'avenir. Non pour opposer ce peintre à tel autre d'aujourd'hui ou de demain. Mais, n'en déplaise aux nouveaux iconoclastes, le situer à l'aurore d'un jour qui ne finira point".
Part of the text of Louis Aragon.
Other prints available by CHAGALL