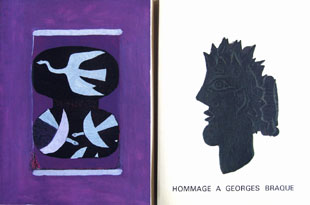 This print is sold

"Hommage à Georges Braque". The complete revue derrière le miroir, number 144 - 145 - 146, published in 1964, first edition. The deluxe edition numbered limited at 350 copies on a Rives paper. (The deluxe edition of the revue derrière le miroir are printed on Arches or Rives paper). This book included an etching by Georges Braque after "trois oiseaux sur fond violet". The book contains also one original lithograph by Picasso, Miro, Tal Coat and Pierre Pallut.
Publisher : Maeght
Printer : Arte for the lithographs
Size of the book : 38 X 28 cm
The book is complete of the prints + of the 9 reproductions in colours of paintings of Georges Braque, of the reproductions of works by Giacometti, Bissière and Chagall et of the photos of Braque by Man Ray, Mariette Lachau and Brassaï.
Texts of Saint-John Perse, René Char, Alberto Giacometti, Francis Ponge, Martin Heidegger, Jean Paulhan, Jacques Prévert, Gaetan Picon, Christian Zervos, Jean Grenier, André Verdet, P.A. Benoit.
Very good condition.
Other prints available by BRAQUE