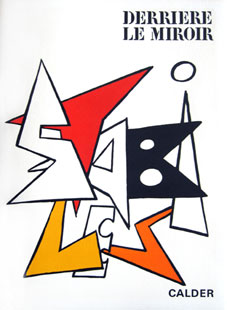 This print is sold

Derrière le miroir number 141, devoted to Calder, 1963. One of the 150 copies of the deluxe edition printed on a Rives paper, comprising 8 original lithographs of Calder and 11 reproductions of paintings of the artist. The book is signed by Calder. Texts by James Jones "L'ombre de l'avenir" and by Michel Ragon "Qu'est-ce qu'un Calder ?".
Publisher : Maeght
Printer : Arte pour les lithographies
Size of the book : 38 X 28 cm.
Very good condition, the book is complete with the original prints of Calder.
Other prints available by DLM