DLM >
Dlm 196 Ubac Deluxe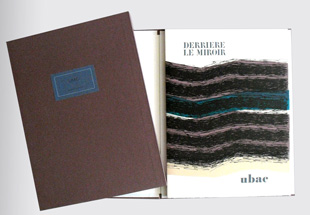 Revue "derrière le miroir" number 196, 1972, illustrated by Raoul Ubac. Comprising 9 original lithographs from the artist, deluxe copies printed on Arches paper, from a limited edition at 150 copies signed by Ubac and numbered. Text from Gaëtan Picon "Les sillons et les corps" and poem by Claude Esteban "Avec la terre".
Printer : Arte.
Publisher : Maeght.
Size of the book : 38 X 28 cm.
References catalogue "Derrière le Miroir, 1946-1982", page 83.
Very good condition.
Other prints available by DLM