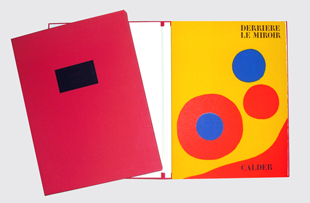 This print is sold

Revue "derrière le miroir" number 201, devoted to Calder, 1973, illustrated with 5 original lithographs. Here the deluxe edition printed on Arches paper, from an edition at 150 copies. This copies is hand signed by the artist. Texts from Maurice Besset "Retour au mobile" and André Balthazar "Calder ou le poids de l'air".
Printer : Arte.
Publisher : Maeght
Size of the book : 38 X 28 cm.
Very good condition.
Other prints available by DLM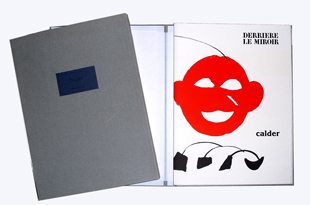 DLM : dlm-221-calder-deluxe
Estampe Vendue

Revue derrière le miroir numéro 221, entièrement consacrée à Calder, 1976, comportant 7 lithographies originales, édition deluxe tirée sur papier Arches d'un tirage à 150 exemplaires (cet exemplaire est un exemplaire HC). Textes de Jean Frémon "L'Art de la comédie" et encart de 4 pages de Jean Davidson " Forme humaine " en hommage à Calder décédé en novembre 1976 à New york.
Imprimeur : Arte
Editeur : Maeght.
Très bon état.
"Les mobiles, les critters, les escucheons de Calder m'ont toujours paru appartenir à cette race d'amuseurs graves qui vivent de l'air du temps et moquent nos travers. A les voir gesticuler en choeur, l'envie vous vient de les baptiser des noms des personnages de la comedia dell'arte, un théâtre qui se fie totalement aux pouvoirs expressifs du corps et, s'appuyant sur un canevas très sommaire, un petit nombre de situations et de personnages fortement caratérisés, donne libre cours à l'invention et au mouvement."
Extrait du texte de Jean Frémon pour cette édition de derrière le miroir consacrée à Calder.
---