DLM >
Dlm 242 Chillida Deluxe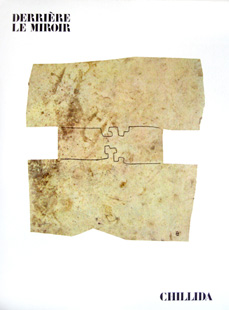 This print is sold

Derrière le miroir n° 242, 1980, the deluxe edition devoted to Chillida. One of the 150 first copies printed on Rives paper signed by the artist with illustrations with embossing. Text of Bernard Noël.
Publisher : Maeght.
Very good condition.
"La création, c'est le passage du cercle au carré. Qui parle ainsi ? Une bouche d'autrefois, qui préférait le souffle au savoir. Et dont les mots reviennent devant ces formes, qui sont d'abord de la terre. Et qui, plates ou volumineuses, sont en effet carrées en elles-mêmes tout autant que carrées d'apparence -des blocs. Et tellement massifs, quels que soient leur taille, que la terre et le carré se fixent en chacun d'eux pour constituer une rencontre essentielle, qui peut-être est liée à la force de l'élément, et peut-être à la simplicité de la figure. Mais l'élémentaire n'est jamais plus fort qu'au moment où ce qui l'informe est réduit au minimum : une marque, la trace sans apprêt du geste qui, en opérant cette marque , a changé la nature de ce qu'il a touché, car son sujet suffit pour que la boule devienne un cube, et le cercle un carré".
Part of the text of Bernard Noël.
Other prints available by DLM