MISC >
Fontana Anthologie Book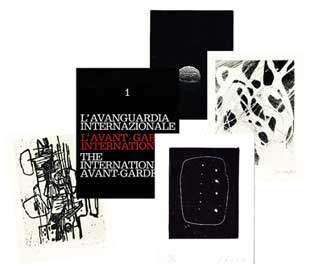 "Anthologie internationale de la gravure contemporaine, the international avant-garde, volume number 1"
First volume of the famous anthology made by Tristan Sauvage, 1962, text by Franco Russoli. With 20 original etchings in black by 20 artists such as Fontana, Hayter, Baj, Bertini, Bryen, Corneille, Copley, Crippa, Hamaguchi, Tinguely etc. Here are reproduced the etchings by Lucio Fontana, Stanley William Hayter, Yozo Hamaguchi et Guillaume Corneille. All the etchings are signed by the artists. Edition of the book at 100 copies (60 + XXV + 15).
Printer : Leblanc, Paris.
Publisher : Arturo Schwarz, Milan.
Size of the book : 31 x 24,5 cm.
Very good condition.
Very important book and very rare complete.
Other prints available by MISC