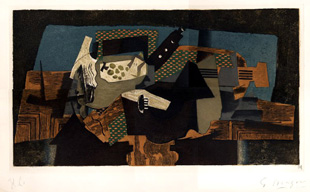 This print is sold

Etching after a painting of Georges Braque, 1950. Nice proof printed on Arches paper, signed and inscribed HC from an edition at 300 copies.
Printer : Visat.
Size of paper : 76 X 48 cm
Size of the etching : 61 X 35 cm
This etching of Braque is not listed in the reference catalogue of Dora Vallier which give the list of all the original prints of Braque + a few of after Braque, but this last categories is not complete in the catalogue.
Marks of handling in the paper, bu the subject is in very good condition.
Other prints available by BRAQUE