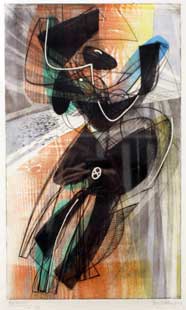 "Danse du soleil" (Sun dance).
Original engraving, soft-ground etching in colours, 1951. Very nice proof printed on Arches paper, signed and numbered from an edition at LX copies.
Printer : Atelier 17
Publisher : La guilde de la gravure
Size of paper : 56 X 38 cm
Size of the print : 39 X 24 cm
References catalogue Black and Moorhead "The prints of Hayter" n° 197.
Good condition, one of the most important by the artist.
Other prints available by HAYTER