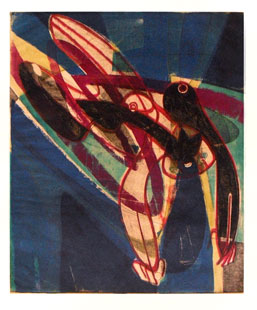 "Falling figure".
Engraving, soft ground etching and scorper, 5 silkscreens printed in colours, 1947. Very nice proof printed on Kochi paper, signed, titled and numbered from an edition at 50 copies.
Size of the paper : 65 X 50 cm.
Size of the etching : 45 X 38 cm.
Printer : Hayter.
References catalogue Moorhead "The prints of Hayter" numéro 178.
Marks of handling in the paper, the copperplate is not well centered in the paper. Subject is in good condition.
Rare.
Desirée Moorhead wrote about Falling Fugure by Hayter : "Falling figure, made in 1947 in New York, has sometimes been criticized as being unclear and overburdened with colours, but this is precisely where its interest lies. Appart from the black intaglio, five surface colours were applied through silkscreens on to the plate, Hayter's desire being to experiment with a highly saturated field of overlapping colour. Teh idea was ambitious if not wholly successful, as on the print areas are visible where the viscosity of certain inks breaks down. Through the uneven edges of the screens it is possible to see the effects of green over blue, giving a dark petrol blue effect bordered by a straight blue, then a yellow over green and a black over blue area".
Other prints available by HAYTER
---
---