HAYTER >
Hayter Figure Etching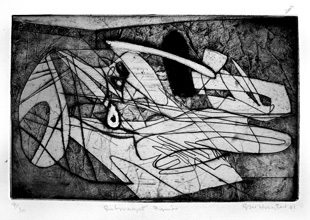 "Submerged figure".
Original etching, soft-ground etching, scorper and engraving printed in black, 1941. Proof on Kochi paper signed, titled and numbered from an edition at 30 copies. The catalogue raisonne inform us that the highest edition number recorded for this etching is the 5/30. (This one have the number 4/30).
Size of the paper : 22 X 32 cm.
Size of the copperplate : 12.5 X 20 cm.
Reference catalogue Black et Moorhead n°144.
Verso : mark of glue for an old frame, little oxyd mark in the upper margin ,but the subject is in good condition.
Other prints available by HAYTER