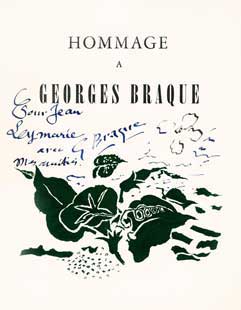 Publication made for the 80 birthday of Braque, 1962. The cover is an orginal lithograph (Le liseron vert). Edition of this publication at 450 copies. This one is comprising a dedication of Braque to Jean Leymarie.
Publisher : Engelberts.
Size : 27.5 X 21.5 cm.
References catalogue Vallier page 276,
catalogue Mourlot n° 132.
Good condition.
Other prints available by BRAQUE