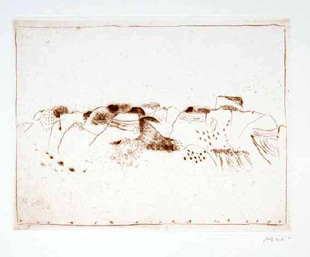 This print is sold

Original etching printed in colours, very nice proof hand signed by Zoran Music, printed on Rives paper in 1969, from an edition at 115 copies. Issued from a suite of the book of Jean Lescure "Jardins déserts peut-être", comprising 10 original etchings signed.
Printer : Lacourière et Frélaut workshop, Paris
Publisher : Galerie Schmücking
Size of the paper : 38 X 28 cm
Size of the print : 36 X 20 cm
Reference catalogue Schmücking n°140.
Very good condition. The suite of the ten prints is available.
Other prints available by MUSIC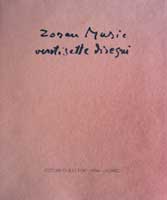 Zoran Music, 27 disegni
Interesting publication from Giulio Topi in 1984 where Zoran Music, confronted with 27 of its drawings, comments on them for us. Works cover all the periods, all the great topics of the artist are thus approached : landscape of Sienna of years 48, portraits of his wife Ida, cavallinis, naked, rock landscapes etc. The drawings are generally carried out with the pencil, sometimes with stencil, some were coloured. Music comments on them, here giving them in their context, there insisting on the technique or the format of a drawing or, in glance of a very beautiful drawing on the channel of Guidecca of 1980, saying its love for Venice. Preface of Sergio Grandini. Back
MUSIC briography