UBAC >
La Lettre, Etchings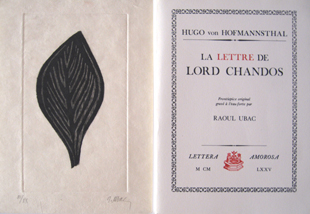 This print is sold

"La lettre de Lord Chandos".
Illustrated book by Raoul Ubac, text from Hugo de Hofmannsthal, 1975. With an original etching hand signed by Raoul Ubac, here one of the 20 first copies with an additional suite of the etching signed and numbered printed on a Japon nacré paper. Total edition of the book at 80 copies (60 + XX).
Printer and publisher : Atelier Lettera amorosa
Size of the book and the prints : 22 X 16.5 cm
Very good condition.
Other prints available by UBAC