BRAQUE >
Lettera Amorosa, Book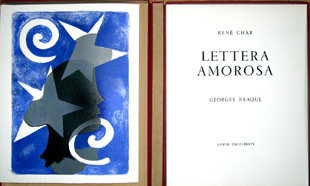 This print is sold

Illustrated book by Braque, text of René Char, 1963. With 29 original lithographs in colours printed on Rives paper. It is the last book illustrated by Georges Braque.
Printer : Mourlot
Publisher : Engelberts, Genève
Size of the book : 32,5 X 25 cm
References catalogue Dora Vallier "the prints of Braque" n° 187.
Very good condition.
Other prints available by BRAQUE