MUSIC >
Music Cavallini Print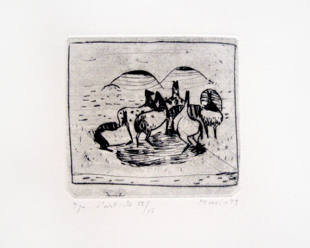 This print is sold

Original etching, 1949, proof printed on Rives paper, signed, dated and annotated épreuve d'artiste" from an edition at 75 copies (60 as greeting card for 1949 + 15 artist proof numbered -here one of these 15).
Printer : Lacourière
Publisher unknown
Size of the paper : 49.5 X 32 cm
Size of the print : 11.5 X 10.5 cm
References catalogue Schmücking "the prints of Zoran Music" n° 21.
Margings and verso : old marks of framing, scotch, but the subject is in very good condition.
Rare.
Other prints available by MUSIC