UBAC >
Pierres Reflechies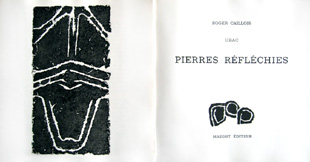 Illustrated book with 15 original etchings of Raoul Ubac, text by Roger Caillois, 1975. One of the 200 copies printed on Arches paper, complete with the 15 etchings of Ubac. The book is signed by the poet and by the painter.
Printer : Arte workshop for the engravings.
Publisher : Maeght
Size of the book : 50 X 48 cm
Very good condition.
Other prints available by UBAC