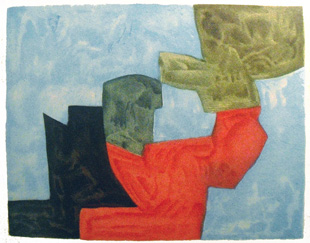 This print is sold

Catalogue for an exhibition Poliakoff in the Galerie der Spiegel in 1964, comprising 2 etchings and aquatint in colours from the artist : "Composition bleu, noire, rouge et verte" (here reproduced) and "composition brune, grise et noire" (this etching with the central fold, as usual). Edition of the catalogue at 300 copies.
Printer : Felsing.
Publisher : Galerie der Spiegel.
Size of the catalogue : 38 X 26 cm.
Size of the etchings : 19.5 X 22.5 cm and 37.5 X 48.5 cm.
References catalogue raisonne Poliakoff numbers XVI and XVII.
Good condition.
Other prints available by POLIAKOFF