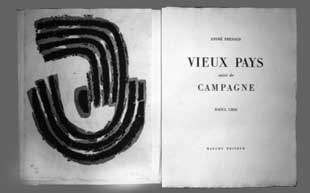 Illustrated book by Raoul Ubac, text from André Frénaud, 1967. "Vieux pays" is followed by the poem "campagne", both from the book "il n'y a pas de paradis". The book is comprising 14 original etchings by Raoul Ubac. Edition of the book at 165 copies.
Printer : Arte.
Publisher : Maeght.
Size of the book : 40 X 30 cm.
Very good condition.
One of the most important book by Ubac.
"Déjà s'éteignent les derniers fours à pain,
s'éloignent les dernières fumées d'herbe.
On enlève de la haie la roue abandonnée.
Les signes chantent. Se meurt la patrie désirable.
Vieux pays qui nous offrait dans tous ses jardins
la dédicace d'un parfum de réséda".
(One part of the poem vieux pays by Frénaud).
Other prints available by UBAC