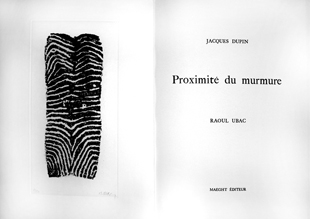 This print is sold

"Proximité du murmure".
Illustrated book by Raoul Ubac, 1971, text from Jacques Dupin, with 8 original etchings. One of the 25 first copies comprising an additional suite of the 8 engravings signed by Ubac, printed on Japon Hosho + 1 additional etching signed. The book is signed by the poet and the painter. Edition of the book at 175 copies. Total are 9 signed prints : the one on frontispice and the suite of the 8 etchings.
Printer: Arte, Paris.
Publisher : Maeght.
2 etchings signed from the suite are reproduced on this page.
Very good condition.
"à la lampe, c'est à dire à la nuit
même dôme et même clarté
même indifférence et même
intimité vindicative
lampe et nuit insondables et proches
de la question que le calme infini
de dehors chuchote en l'étouffant
comme on se détourne d'un crime
(Part of the poem of Jacques Dupin).
Other prints available by UBAC