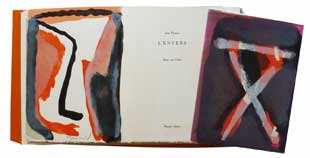 "L'envers"
Illustrated book. Text by Jean Frémon, comprising 5 original lithographs in colors signed by Bram Van Velde. Edition of the book at 120 copies.
Size of the book : 25.5 X 19 cm.
Printer : Pierre Badey.
Publisher : Maeght.
Very good condition.
"On pourrait imaginer que cela se passe à la fin de l'hiver, un grand champ de labour entoure la maison, quelques plaques de neige y subsistent, en bordure d'un bosquet d'arbres noirs. En eux-mêmes, ces détails, bien sûr, n'importent pas. Il me semblait simplement que la qualité de l'air à cette période de l'année, dans ce décor, l'atmosphère de la pièce longtemps chauffée au feu de bois, l'ameublement, vieille comode de chêne ou de noyer, tapis épais ; il me semblait que tout cela était de nature à donner à la voix du lecteur le ton que j'attends d'elle, grave et doux, feutré sans excès, un peu monotone".
A part of the text of Jean Frémon.
Other prints available by VAN VELDE