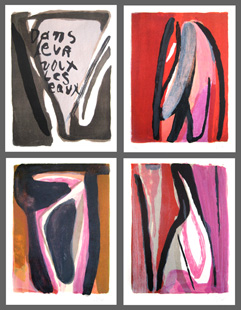 This print is sold

"Dans leur voix les eaux". Illustrations by Bram Van Velde, text from André du Bouchet.
Illustrated book by Bram Van Velde, text by André du Bouchet, 1980. Comprising 5 original lithographs in colors signed by Van Velde + the cover of the book in lithograph (here reproduced the cover of the book and 3 lithographs). Edition of the book at 165 copies, one of the 30 first copies with an additional suite of the 5 lithographs signed on Japan paper. Total are 10 prints signed by the monogramm.
Printer : Pierre Badey.
Publisher : Maeght, 1980.
Size of the book : 35 X 27 cm.
Size of the lithographs : 29 X 21 cm.
Very good condition.
"Inclus
dans la voix des eaux
et
le long de ce sommeil
sitôt
que je ne dors plus
dans la voix
j'écoute
et
j'écoute
comme la capsule
du pavot."
(One of the poem of André du Bouchet for the book).
Other prints available by VAN VELDE
VAN VELDE : van-velde-unique
"L'unique", illustrations de Bram Van Velde, texte de Höderlin.
Livre illustré par Bram Van Velde, 1973, Texte de Höderlin (traduction en français de André du Bouchet), avec 5 lithographies originales signées de Bram Van Velde, la couverture de l'ouvrage est également une lithographie (Ici sont reproduites la couverture et 3 des lithographies du livre). Tirage du livre à 125 exemplaires.
Imprimeur : Pierre Badey.
Editeur : Maeght.
Dimensions du livre et des lithographies : 40 X 30 cm.
Très bon état.
"Qu'est-ce, aux
vieux rivages heureux,
qui m'enchaine, que plus encore
je les aime, que ma patrie ?
car du ciel
captif moi-même, comme ployé au plus près du jour
parlant
là je suis, ou, comme pierres le disent, allait Apollon,
souverain,
et, à une jeunesse pure, se
laissait Zeus fléchir, et fils, d'un mouvement divin,
et filles il procréait,
séjournant muet parmi les hommes."
(Extrait d'un des poèmes du livre l'Unique).
---