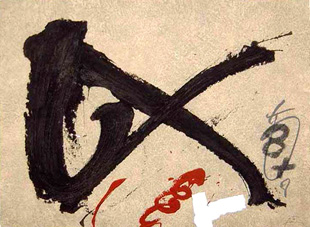 This print is sold

Original etching in colours and carborundum, 1990, very nice proof printed on hand made paper Lafranca, signed and numbered from an edition at 75 exemplaires.
Printer and publisher : Poligrafa, Barcelone.
Size of the paper and the engraving : 76 X 56 CM
This print is reproduced in the book "Tàpies 40 anys de col.laboració " under the number 60-1,page 72. It will be listed in the fothcoming reference catalogue of the prints Galfetti vol. 4.
Very good condition.
Other prints available by TAPIES