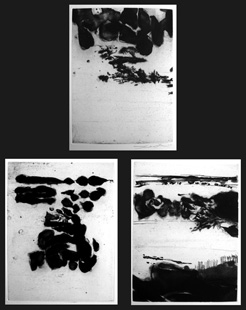 Zao Wou Ki, Lorand Gaspar : "Genèse".
Illustrated book by Zao Wou-Ki, 1981, text from Lorand Gaspar, comprising 3 original etching and aquatint, the first one is signed. Edition of the book at 100 copies. (XX + 80).
Printer : Lacourière.
Publisher : Thierry Bouchard.
Size of the book : 33.5 X 26 cm.
Size of the etchings : 24 X 18 cm.
Very good condition.
"A l'eau sombre qui là-bas recueille
les griffures d'une aube sur terre
à l'eau qui s'en va en riant
dissiper la ferveur des images
à la goutte de feu dans mon oeil
quand l'âme vérifie le désert.
A ce qui me dit fluide et indivis
entre mille voix levées au matin de la voix
essaim de gerçures muettes
dont saignent encore mes lèvres
(A part of the poem of Lorand Gaspar).
Other prints available by ZAO WOU-KI