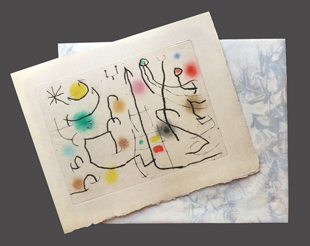 This print is sold

Ilia Zdanevitch (Iliazd) and Pablo Picasso
"Hommage à Roger Lacourière". Illustrated book, 1968. In-4 oblong (33 X 26 cm). Text of Iliazd "Rogelio Lacourière,¨pêcheur de cuivres" and text by Pablo Picasso "Aux quatre coins de la pièce". The book is comprising 13 original etchings by Beaudin, Bryen, Derain, Dunoyer de Segonzac, Ernst, Giacometti, Magnelli, Marcousis, Masson, Miro (the print here reproduced), Pascin, Picasso, Survage. Edition of the book at 75 copies. One of the first 10 copies printed on a vellun paper. The book is signed by all the artists (signature with a blue pencil for Miro) except by Passin, Giacometti, Derain et Marcoussis whose signatures are printed because they died before the edition of the book.
Printer : Atelier Lacourière
Publisher : Le degré Quarante et un
Good condition, the book is complete of all the etchings.
References catalogue "the illustrated books by Miro" n°120. Rare. Photos of the other prints on demand.
Other prints available by MIRO