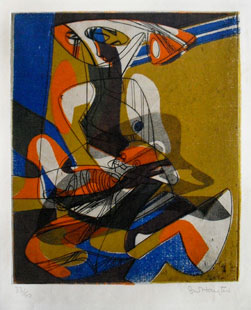 This print is sold

Engraving, soft ground etching, 3 sikscreens printed in colours, 1940, hand signed by Hayter, and numbered.
Size of paper : 52 X 34 cm
Size of copperplate : 22.5 X 19 cm
References catalogue Moorhead n° 132. This etching is reproduced in colors page 11 of the catalogue.
Marks of handling in the paper, some creases but the subject is in good condition.
Maternity is the first print in colors from Hayter.
Desiree Moorhead wrote about the print "Maternity" : "In 1940, Hayter made his first colour print, "Maternity", combining an engraved plate with silkscreens. It was a composite print with sikscreens colours printed first on to the sheet over which the engraved plate was then printed in black. It was a combersome and laborious printing process but reawakened Hayter's intense interest in colour printing."
Other prints available by HAYTER
---
---