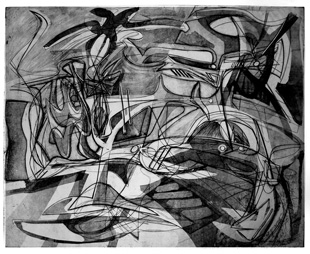 This print is sold

"Tropic of cancer".
Original engraving, soft ground etching, roulette, scraper, deep etching and scorper printed in black, 1949. Very nice proof on Arnold paper, signed, numbered and titled by Hayter from an edition at 50 copies. Size of the paper : 68 X 84 cm.
Size of the etching : 54 X 70 cm.
Printer : Hayter for the numbers 1-30, Haasen for the numbers 31-50 (This copies is one of the 30 first printed by the artist himself).
References catalogue Black et Moorhead "The prints of Hayter" number 190.
A few minor deffects in the margins, subject in very good condition.
It is the biggest etching by Hayter and probably the most important print by the artist in black and white. This etching was awarded prize by the Museum of Modern Art of New York in 1952.
Desiree Moorhead wrote about Tropic of Cancer : "Tropic of Cancer from 1949 is the largest plate undertaken by Hayter, and in its coherent arrangement of line and form the use of texture has become as important a part of the image as the engraved line itself"
Peter Black wrote about this etching : "Hayter's plates of the mid-1940s are much larger than the works of the 1930s and they approach a scale (especially Tropic of Cancer from 1949) than was then unusual for original etching or engraving. As the images reached the limits of scale appropriate to Hayter's burin lines, large sculptural areas of soft ground texture began to play an important part in the defining shapes. Tropic of Cancer is certainly not large in comparison with some reproductive engravings of the nineteenth century although it is on a scale altogether much larger than typical etchings by Hayter's contemporaries. It works well precisely because, like the great reproductive engravings, it relies heavily on tonal devices".
Rare.
Other prints available by HAYTER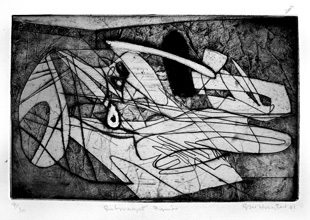 HAYTER : hayter-figure-etching
"Submerged figure".
Original etching, soft-ground etching, scorper and engraving printed in black, 1941. Proof on Kochi paper signed, titled and numbered from an edition at 30 copies. The catalogue raisonne inform us that the highest edition number recorded for this etching is the 5/30. (This one have the number 4/30).
Size of the paper : 22 X 32 cm.
Size of the copperplate : 12.5 X 20 cm.
Reference catalogue Black et Moorhead n°144.
Verso : mark of glue for an old frame, little oxyd mark in the upper margin ,but the subject is in good condition.
---