MIRO >
Le Lezard, Lithograph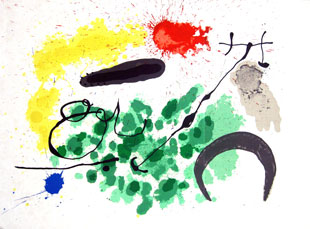 This print is sold

"Le lézard aux plumes d'or".
Original lithograph in colors, 1967, very nice proof printed on Japon Nacré paper, unsigned, from an edition at probably 50 copies (see the notice below).
Printer : Mourlot.
Publisher : Broder.
Size of the paper and the lithograph : 56 X 41 cm.
Reference catalogue Miro Litographe n°456.
Very good condition.
"In 1967, Miro realized 18 lithographs in colors to accompany his poem "le lézard aux plumes d'or". A few times after the printing, the artist and the publisher, Louis Broder, realized that they were defects in paper and that these defects had caused deteriorations of the colors of the prints, they thus decided to refuse the lithographs and to destroy them. There could not be some discussion about producing same compositions because the lithographics stones had been destryed also, Miro thus carried out new lithographs which appeared in 1971 with the same title. Additional suites of the lithographs had been also printed on Rives, parchment and Japan with size 41 X 56 cm. After the death of Louis Broder, it had been impossible to determine if all the defective suites had been destroyed. We could not establish with precision the edition of these suite. It is probably the same edition that the one of 1971. In this case, there would be for each subject, 30 copies on parchment and 50 copies on Japon Nacré". (Note in the catalogue Miro lithographe III, Maeght Publisher).
Other prints available by MIRO