MIRO >
Lumiere De La Lame, Etching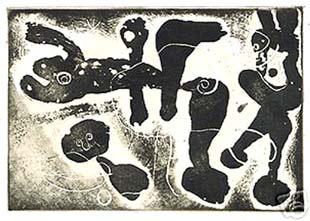 This print is sold

Original etching and aquatint in black, 1962, very nice proof printed on Richard de Bas paper. It doesn't exist any signed copies of this print which comes from the book of André du Bouchet "La lumière de la lame". It is a trial proof with some indication of the printer under the etching.
Printer : Lacourière, Paris.
Size of paper : 33 X 26 cm
Size of the etching : 13 X 9 cm
References catalogue Cramer "the illustrated books by Miro" n° 326.
Good condition.
Other prints available by MIRO