MIRO >
Miro Le Ruban Print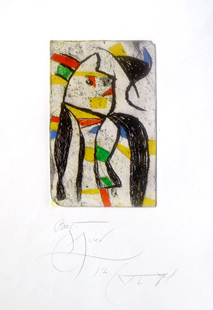 This print is sold

Original etching and aquatint in colours, 1981, very nice proof printed on Arches paper, signed and anotated BAT (bon à tirer) and dated. this print had been made for the book of Michel Leiris "Le ruban". Edition of the book at 155 copies.
Printer : Joan Barbara
Publisher : L'Ire des vents.
Size of the paper : 50 x 35.5 cm
Size of the print : 23.5 X 14 cm
References catalogue Cramer "Joan Miro the illustrated books" n° 250.
Very good condition.
Other prints available by MIRO