MIRO >
Miro Etching Rupestre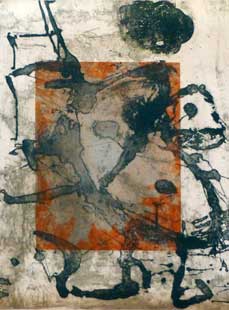 This print is sold

"Rupestre".
Original etching in colors, 1979, very nice proof printed on Arches paper, signed and annotated PA. It is a unique proof : le backgroung is the etching called "Rupestre 14". the artist put the copperplate orange on this background, just for one copies, the rest of the edition is not in colors.
Size : 76 X 56 cm.
Printer : Joan Barbara, Barcelone.
Very good condition. A certificate of Joan Barbara will be given with the engraving.
Rare.
Other prints available by MIRO