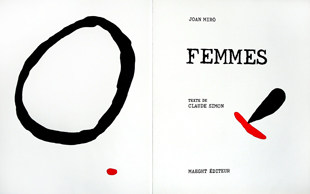 This print is sold

"Femmes".
Illustrated book by Joan Miro, text by Claude Simon, original edition, 1965, comprising 3 woodcuts by the artist.
Printer and publisher : Arte.
Size of the book :56 X 45 cm.
References catalogue Dupin "The illustrated books by Miro" n° 105.
Good condition.
"Lourde toute entière vêtue de noir la tête couverte d'un fichu noir elle traversa la plage déserte arrivée près du bord elle s'assit sur le sable fit asseoir l'enfant à côté d'elle après quoi elle resta là les deux mains posées un peu en arrière les bras en étais le buste légèrement renversé regardant la mer les jambes allongées croisées à travers la trame de ses bras on pouvait voir sa peau très blanche..."
Part of a text of Claude Simon for this book.
Other prints available by MIRO