MIRO >
Miro Lacouriere Etching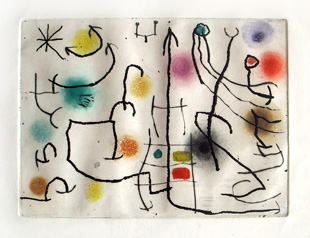 "Hommage à Roger Lacourière".
Original etching and aquatint printed in colors, 1968, very nice proof printed on Arches paper, unsigned. Trial proof whose colors are a little different than in the regular edition of the book. Edition of the book at 75 copies.
Printer : Lacourière
Publisher : Le degré Quarante et Un.
Size of the paper : 24.5 X 32.5 cm
Size of the etching : 17 X 22.5 cm
Reference catalogue Cramer n°120, catalogue Dupin n°456.
Margins are a little dirty but the subject is in good condition.
The book "Hommage à Lacourière" realized in 1968 is comprising original etchings from the following artists : André Beaudin, Camille Bryen, André Derain, André Dunoyer de Segonzac, Max Ernst, Alberto Giacometti, Alberto Magnelli, Louis Marcoussis, André Masson, Joan Miro, Pascin, Pablo Picasso et Leopold Survage.
Other prints available by MIRO