MIRO >
Miro Paroles Peintes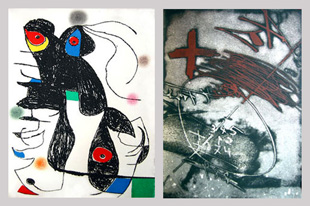 This print is sold

Paroles peintes 5, including texts by 9 authors, illustrated with engravings by 9 painters. This book include etchings and aquatints by Miro, Chillida, Bryen, Matta, Tapies etc. Edition of the book at 200 copies. This is a deluxe copies without the suite, dedicated to Francis Ponge.
Different printers,(for Miro : Morsang)
Publisher : O. Lazar-Vernet.
Good condition.
Book complete with the 9 original etchings.
Other prints available by MIRO