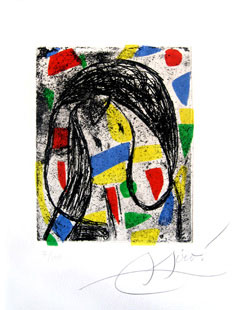 This print is sold

"La révolte des caractères", text from Guy Levis Mano, illustrated with one original etching by Miro.
Etching and aquatint printed in colours, 1982, on Arches paper, signed and numbered from an edition at 125 copies (100 + XXV) issued from the book of Guy Levis Mano "La révolte des caractères".
Printer : Joan Barbara, Barcelone
Size of paper : 33.5 X 26 cm
Size of etching : 20 X 16 cm
References catalogue Cramer "The illustrated books by Miro" n° 254.
Very good condition.
"Il verrouila la porte de sa ville. Il se crut inexpugnable. Il était maître du silence. La ville s'était tue. L'homme était ingénu. Il ignorait que dans la ville close, il y a toujours un traître, et dans leurs murailles une poterne oubliée. Et il fut assailli par un peuple hostile. Il voulut fuir. Un gardien lui barra la route. Il s'en alla vers d'autres routes. Mais devant lui le même gardien ennemi et silencieux l'attendait. Il fut en souci. Le gardien qui barrait ses routes, le traître qui livrait sa ville, il les connaissait bien. C'était lui-même."
("le traître dans la ville close", poem issue from the book).
Other prints available by MIRO
---
---
---