MIRO >
Trente Ans, Etching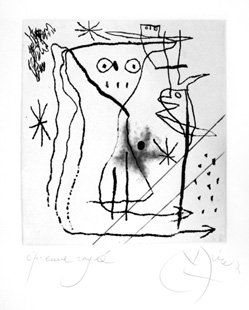 This print is sold

Original etching in black, proof from the cancelled copperplate, 1971 printed on Arches paper, handsigned by Miro and annotated "épreuve rayée". This engraving had been realized for the album "Gérald Cramer, trente ans d'activité", here a proof before the aquatint. There is no edition of this print, probably only 2 or 3 copies.
Printer : Arte, Paris.
Publisher : Gérald cramer.
Size of paper : 57 X 45 cm
Size of the print : 35 X 32 cm
References catalogue Cramer "Miro the illustrated books" n°144, catalogue Dupin "the prints of Miro" n°549.
Very good condition.
Other prints available by MIRO